Studying in Britain is a challenging and rewarding experience. Your central concern, of course, is your education and gaining the knowledge, skills and expertise to use in your life and career. Meeting new friends and enjoying the social, cultural and sporting opportunities afforded by life in a new country are also of huge importance. The key to reaping the diverse rewards of your student time is finding the right living accommodation. Navigating the student housing market can be a difficult procedure but there are some basic principles to follow.
Deciding what is Best for you
Firstly, time and thought spent analysing your requirements will be amply rewarded. Ask yourself what you hope to gain from your life in Britain and the living arrangements which will best help you achieve your goals. For example, do you need quiet and solitude? Do you hope to be near to your place of study? Are you expecting to explore shops, museums and restaurants? Do you wish to live with other students? Which, if any, of these criteria are non-negotiable? Can you be flexible on some points? Organising your thoughts on these issues will help to establish the type and location of accommodation you require.
Secondly, you need to look closely at your finances and decide how much of your budget you are willing and able to spend on housing. This will entail considering the funds needed for food and hygiene, transport, stationery and books, clothing and socialising as well as any utilities and any healthcare or other insurance you may need to buy.
You now have a personal equation for finding affordable student accommodation.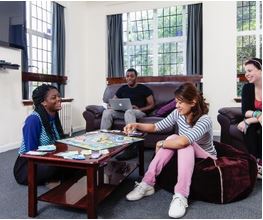 What are My Next Steps?
You will be clear in your own mind about your needs but you will now need help to realise them. The single most important thing you should do at this point is to identify and contact a reputable accommodation agency. There are several such institutions in London and elsewhere which have experience and expertise in locating affordable student accommodation for overseas visitors and each will be delighted to help you.
When you approach an agency, tell the staff as much as you can about yourself, your requirements and your budget. Armed with comprehensive insider knowledge of the available housing and an understanding of your needs, the agency will now be able to outline your current options and explain the advantages and disadvantages of each choice.
For example, after considering your criteria and budget, the agency may suggest a range of possible accommodation for you. If you wanted a Central London house share but have a restricted budget, they may point you to a house in the suburbs which is cheaper and has outstanding transport links to the centre of the city. If your budget is more flexible, the agent may point you to a flat in a central location.
You will now be equipped with expert advice geared to your needs and a happy, safe new home is within reach. Welcome to the United Kingdom!