People say weddings are made in heaven and celebrated on earth. There are multiple ingredients exist in a wedding which makes the celebrations even more memorable. One of those is shopping for the perfect bridal attire. In Delhi, Karol Bagh, Chandni Chowk, Hauz Khas Village and Lajpat Nagar are said to be the Mecca for wedding shopping.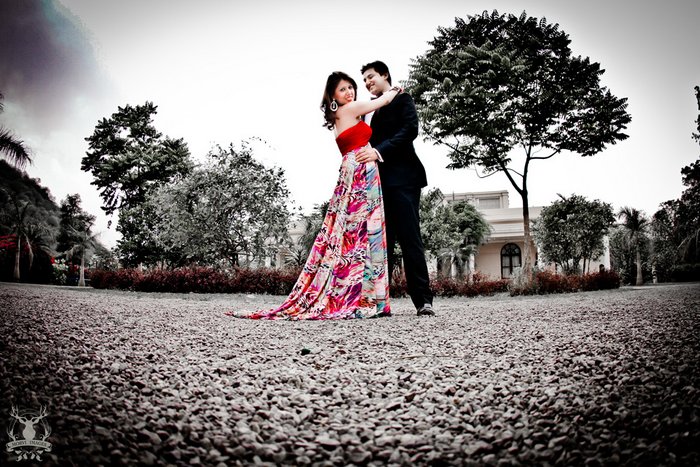 A girl starts dreaming about her 'shaadi-ka-joda' right from the time she understands that she too will be a bride one day. However, when the actual time comes, most of the women become confused on what colour to choose or which silhouette would suit her best. Well, worry no more. Here are a few tips to help you in choosing the right colour for your wedding ensemble:
•    Always choose a colour based on your skin tone, as well as the time of the day when your wedding will be solemnised.  Never pick one because it is in trend.
•    If you are going to have a day wedding, then pastels will work for you. In Delhi, lot of weddings takes place in the morning in Gurdwaras. Wearing an outfit in rose pink is advisable here. For night weddings, choose something in darker shades or in jewel tones. Also, if it a summer wedding, light soothing colours will work best; whereas richer, more vibrant shades are ideal for cooler months.
•    For all our very fair would be brides with cool skin tones, shades of bright blues, vivid pinks, jewel tones like wine and emerald green would look best. For daytime events, choose from lime green, darker shades of peach etc. However, choose pastel shades carefully since these can make you look washed out.
•    Fair skinned ladies may choose from all neutral shades. Baby pinks, blues and pastel yellows work wonders for this skin tone. If you are a warm, avoid very bright jewel tones since they can make you look overwhelming.
•    If you have wheatish complexion, you are lucky. Because you can wear most of the rich and warm quintessential bridal colours like the reds, oranges, gold, fiery yellow and browns. A combination of red, cream and gold would look lovely on this skin tone. However, exercise caution while selecting any pastel shade since ash grey, beige etc will add darkness to your face, so would midnight blues and dark greens.
•    Dusky beauties have a wide range of colour to select from. Warm pastels look absolutely gorgeous on olive skins. Other colours that compliment this skin well are burnt oranges and yellows, emerald green, marsala, royal blue, brick red and peaches. Avoid neon colours and pure whites.
Always select the colour during daytime and under natural lights. This would let you know the exact hue of the outfit. You may also hold the outfit against your face to check whether the colour complements you and brightens you up or not. This will especially be helpful in getting amazing pre wedding photographs. If possible, shoot some pictures while you try the outfit. This will give you a clear indication on how it will look on you on your marriage photography. Even your wedding photographer in Delhi would thank you for doing that.