Kids are more prone to catch cold during winter season, it's better to have a thermal wear for them. Cute thermal products which look cool on kids and are easily wearable are widely available online. Different thermal wears are available for boys and girls. Thermal wear material should have capability of allowing sweat to evaporate, which will be easy to wear every time and will also be comfortable for kids, and they would not face any suffocation. Kids generally lose their heat more rapidly, and they realize less of getting cold.
Most commonly thermal wears are of two-pieces. They are either sold separately or in a set. Thermal wear generally serves a comfortable winter sleeps. While buying thermal wear for kids, parents needs to be very careful and should keep different aspects in mind. The size should be fit, so that cold air should not enter. The parents should buy thermal wear for kids with perfect size. A wide range of price and varieties are available for kids, and parents should avoid to buy expensive as because the kid might grow tall for the next year.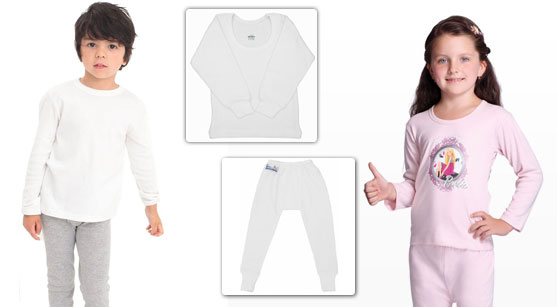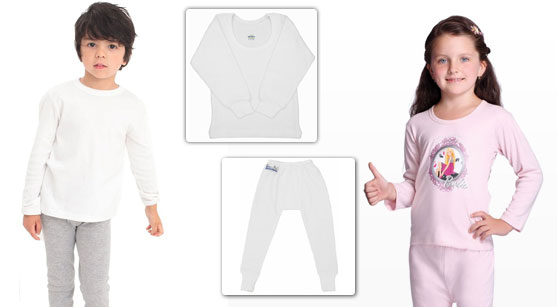 Art of dressing your kid:
Clothing should allow proper ventilation and can allow heat to escape. Wool acts like a good insulator which can absorb moisture without getting wet and is very inexpensive to wear. The kids should wear one layer of cloth i.e. is the thermal wear to protect themselves from catching cold. Excessive layer can make your kid more sweat, where clothes get wet and allow cold inside the body. Buy best fit size wear for your kid and the thermal wear must be tight fitted so that it does not allow cold air to pass.
Thermal Wear Vs Normal Sweaters during winters:
It provides an additional layer of protection against the elements. Initial layer of clothing is usually thermal wear. Materials used for thermal wear are breathable, where if a man gets sweat, the perspiration will be away from the skin. Thermal wears are especially suitable during icy state. Kids should like the thermal wear else it will be a waste product. The online sites provides different varieties of kids thermal wear, with lots of colourful thermal wear and which will save money and majorly the time factor. You should buy fine wool product with the combination of cotton would be a best fit for the kids thermal wear. Combination of this helps to get dry easily during the winter season also. A woollen thermal wear is always needed to be washed properly and is very difficult to get dry. Thermal wear provides warmth, comfort and available in wide range at markets. Online products for kids have varieties of kid's thermal online wear, which have displayed the size chart where you can easily purchase a thermal wear. You must buy gentle thermal wear based on conditions and details.
Kids should wear thermal wear to avoid cold. Thermal wears helps them to make their body fit for the winter season.
Decorate Your Home Sweet Home With Elegance
WEARING AN ART IS A NEW STATUS SYMBOL
Tips To Make Your Home Elegant With Handloom Touch!