There are many salons where you can get a spray tan in NYC but you want to get the best possible results from your experience. When a mistake is made with tanning solution, you may find out how significant the problem is the next day! Once the tanning solution is on your skin, it needs to dry without being compromised so that you get a smooth result once the process is completed. To get the best results, you need to know what questions to ask the salon. These are some that will help you decide.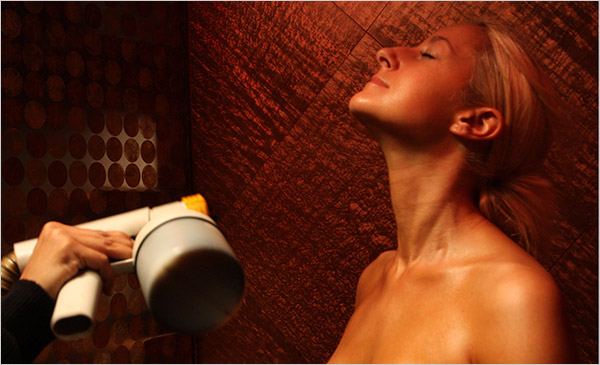 How is the Tanning Solution Applied?
There are basically two ways that spray tans are delivered. One is with an application sprayer that does the job by itself. Some people like the idea of disrobing in front of a machine instead of a person. The other type of application is performed manually by a skilled tanning technician using a handheld spray gun. These techs can provide more custom results and ensure that the coverage is optimal. Many of the clients who have received a spray tan from Gotham Glow mention how much the technician put them at ease during the custom tan.
How Dark Will My Tan Be?
Nearly every spray tan in New York relies on the same active ingredient, DHA, to make skin tan. Different solutions with varying amounts of DHA achieve a broad range of colors from a light, golden glow to a deep, dark tan. Depending on your reason for getting a spray tan, you may want to accomplish a tan on either end of the color spectrum. Make sure the salon you go to doesn't limit itself to a single approach for every customer that walks through their doors. The result could be the wrong color or an orangey, streaky tan.
What Services Do You Offer?
People like having choices, and there are several that you may have available to you if you choose the right salon. In addition to offering different shades of tan, ask the salon if the offer both facial and full-body spray tans and whether they also offer contouring. If you have a special service in mind, there is a good change someone will offer it.
Where are the Spray Tans Performed?
It is important to find a "professional" salon that is set up to give you a good quality tan. The last thing you want is to make an appointment at a salon and end up in the restroom with the hairdresser's husband applying the solution! For the ultimate in comfort and luxury, consider a mobile express tan that is applied in your home and dries in a fraction of the time normally required.
How Much Do You Charge for Partial/Full Spray Tans?
Make this your last question after you have asked all the rest. Don't be tempted into sacrificing quality to pay a little less. You get what you pay for and a top quality tan should be expected to cost a little more.
If you want a spray tan in NYC that looks its best, don't be afraid to ask the right questions and know what you are getting before you get a spray tan that you can't wait to fade.