A weekend ago, I ran my first half marathon in Edmonton. Trust it or not, I had an extraordinary time. This is what I learned:
1. Grin and wave… at the volunteers offering you water, the outsiders holding amusing signs, your kindred rivals. It helps, genuinely, regardless of the fact that you look sort of nutty. (Likewise, attempt to recall to grin when you cross the completion line so you don't seem as though I did
2. If you're used to carrying water on your long runs, bring it with you to the race in a belt around your waist. It's really difficult to run while drinking from a cup. Having to stop and drink slows you down. You can't have that if you're trying to beat your personal best.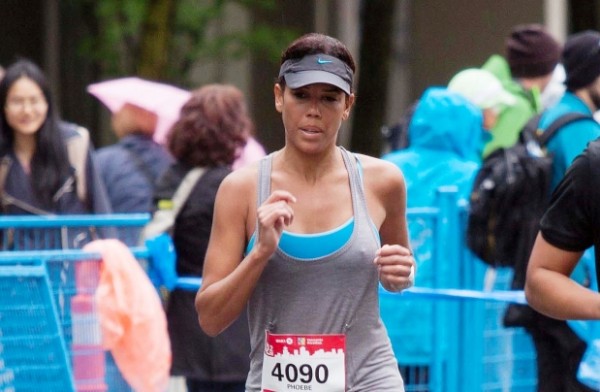 3. Get to the course earlier than you think you should. (Bike there if you can.) I got to the race with only about a half hour to spare and it stressed me out. Those bathroom lineups are long!
4. Here's a breakfast that worked for me. Maybe it will for you, too: woke up two hours before my race and ate one piece of toast with peanut butter, honey and banana. Drank a milky coffee. My stomach was in knots, so I couldn't get any more than that down.
5. Tell a lot of people you're running a half marathon (or marathon) because it will push you to run faster. You'll want to impress them- and impress yourself.
6. Don't miss taking the chocolate milk at the end, if they have it. (Might as well grab a muffin or two since you did just lose more than 1,000 calories.)
9. Keep in mind, frequently they attempt to trick you with the kilometer markers. I got really stoked when I saw the 18 kilometer mark, however then the following one said 18 kilometers as well. They deceived us. I feel that should be empowering, however it didn't work for me.
10. Delight in what you simply did. You ought to be pleased with yourself, regardless of the possibility that you didn't do and additionally you trusted. Presently go stretch, beverage water, consume, and clean up. Sign up for an alternate?
Extra: As you close to the end, talk so everyone can hear to yourself. It truly worked for me, however odd that may sound. "Go, go, go! You can do it!"
How did your race go? What are you needing next?
7. Make sure your playlist lasts as long as you expect to be out there running. (Make sure music is allowed at your race first.) My tunes ran out early and it was a bit of a buzz kill. I know a lot of people think you shouldn't run with music at all and even though I was only partially paying attention to mine, it was nice to have the background beats.
8. Watch out for your fellow runners, especially at the beginning when it's super crowded. (Maybe don't press play until you're a couple kilometres in.) Cheer them on, but remember to keep breathing, or you might get a stitch.