$1 Million gift from Bowerman gang
The University of Oregon School of Law began off the 2013-2014 school year with a $1 million gift from a recognizable name: Tom Bowerman.
The cash went to the Environmental and Natural Resources Law Center and permitted the focal point to about twofold the measure of exploration colleagues and help will understudies who will soon seek after vocations.
"For the ENR focus, its an exceptionally exceptional and essential blessing. It's gratitude to the continuous backing from the Bowerman family and its a truly noteworthy and imperative blessing that we acknowledge," said Heather Brinton, the overseeing executive for the ENR focus.
As most games fans know, The Bowerman is a national olympic style sports honor named after previous UO mentor Bill Bowerman.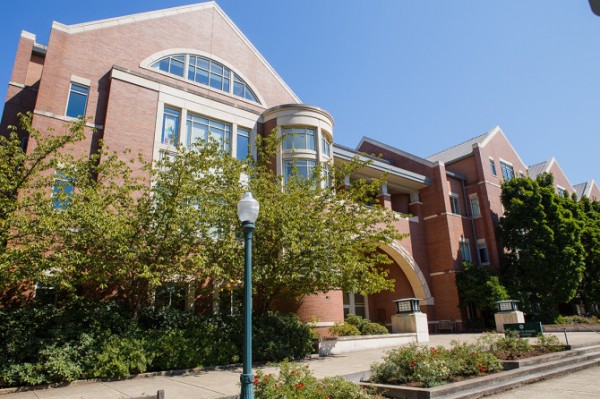 Oregon Supreme Court hears contentions on homicide trial
Consistently the Oregon Supreme Court visits the graduate school to hear oral contentions and take understudy questions.
Not long from now, the visit was to hear contentions on two cases, State of Oregon v. Jerrin Lavazie Hickman and Ronald Doyle v. City of Medford.
The Hickman case had drawn some media consideration, as he was sentenced murder in 2009, just to have the conviction tossed out in the Oregon Court of Appeals in 2013.
The Oregon Supreme Court heard contentions working on this issue amid their visit in March, and on July 10 they restored Hickman's homicide conviction.
Stopped in Portland interfaces understudies with neighborhood businesses
The UO graduate school facilitated "Stopped in Portland" on June 20, 2014 in the White Stag building.
The occasion drew around 100 experts from around Oregon and emphasized various labs, discussions and proceeding with lawful training projects.
Ellen Rosenblum, Oregon's lawyer general, commenced the occasion with a couple of introductory statements about the difficulties of the lawful field with rising advances.
"The occasion's scale was goal-oriented and its extension was wide, touching on a few key financial divisions and functional aptitudes," Rebekah Hanley, collaborator senior member for the graduate school's profession focus, said on the graduate school's site.
2013 – 2014 graduate school awards
The 2013-2014 school year saw the UO graduate school and its projects gaining national distinguishment.
Among them were three projects being emphasized in U.s. News & World Report's "America's Best Graduate Schools" list. The lawful research and composing program, the natural and common assets law project and the suitable question determination system were all offered in the main 10 claim to fame programs in the nation.
The School of Law all in all was positioned 13 in The National Jurist magazine's rundown of top schools for open investment law. It additionally got a remarkable evaluation from the distribution for its functional preparing contrasted with different establishments. The School of Law got the most astounding evaluation from the distribution for graduate schools in Oregon.