We were quite satisfied with the home decoration for the first several months or years. Few years later, we have a feeling toward the home decoration that something should be changed for the nursery wall decal or the color to make the space more enjoyable and stylish. If you have this kind of ideas, you may start looking for the changes from the following aspects.
Store Your Books in a Different Way
Books are a good help for the home decoration and they have many ways to place them. since the total number of your books are more enough, why not take advantage of the resource and replace them to give the space a new look! Maybe your books are placing in book cabinet, book shelf or under the stairs, just change a way to put them.
Rearrange Your Furniture
You may be annoyed by the three seats sofa that next to the fireplace. In this case, you may try the bench putting there instead and to see how you feel. Or just rearrange the position for the furniture to get a new look and seating way, which can give you a new feeling as well. if some furniture you do not like it, just put it other rooms. With different room environment and color combination, you may have a different feeling for the same furniture.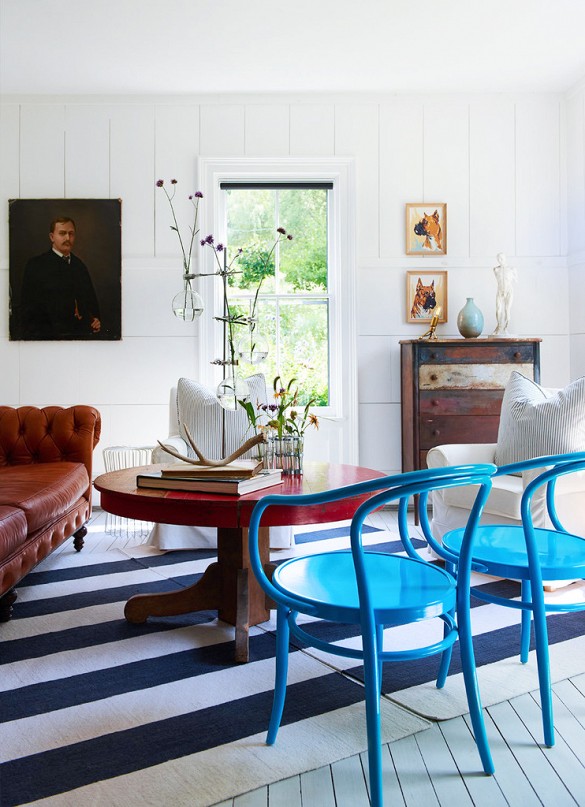 Change Paint for Furniture
Sometimes, you just feel that your space is not stylish enough for no reason. Try painting a different color for the furniture or wall. The new or different color may make the furniture new and different. Not only for the obvious items such as the wall, desk and the door. The seats, legs and even the daily used items could be taken into consideration.
A Touch of Gold Can Add a Luxurious Feeling to the Space
Gold color is not suggested widely used in homes. However, a touch of gold can add the luxurious feeling for the space. For instance, buy a gold desk lamp, gild the photo frame or put a gold book cover book.
Add Something Creative and Beautiful in a Corner
The creative and beautiful items are never failed to catch people's eyes. For instance, add a unique wall art on the sofa background wall, pick the brilliant design lights or hanging photos in the air by the ladders. But, just one spot for this kind of spot is enough. Too much may dazzle people's eyes and transfer their sight to other things. You can find more helpful tips here.